Laminated Timber Slabs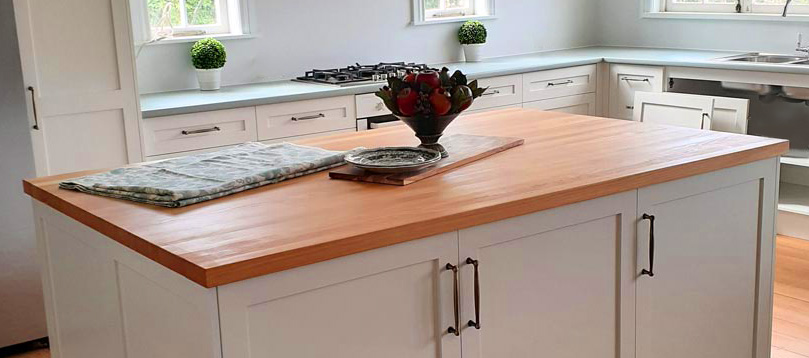 Laminated timber slabs are available in either Macrocarpa, or Eucalyptus Saligna (subject to availability). These laminated slabs are manufactured by glueing smaller boards together to make a variety of products suitable for kitchen timber bench tops, bartops, countertops and tabletops, laminated solid doors, laminated table legs, laminated shelving, and coffee tables.
Smaller laminated slabs are also an excellent option for stair treads, providing an attractive and durable tread. We can cut our treads the dimension requirements of your staircase.
Our laminated slabs can be manufactured from either a clear grade of timber to achieve a slab with no knots or imperfections, or from a dressing grade of timber giving a very attractive knotty appearance. Our laminated slabs have been sanded and are ready to be oiled/finished.
On most occasions we make them to order to the dimension (length, width and thickness) you require, we also have some assorted finished sizes in our stock to chose from.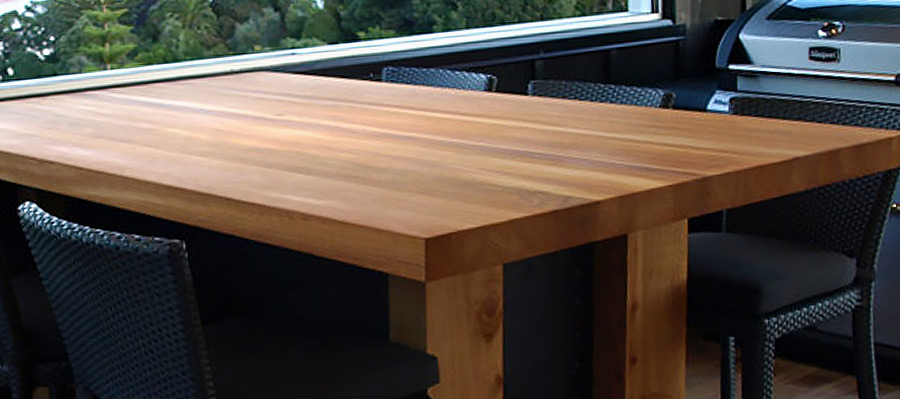 Important notes:
Our laminated timber products come with a finely sanded finish.
The Clear Grade Slabs will be clear on one side and the other side may have some imperfections, as this side is normally unseen.
They are supplied slightly over length for final trimming by the installer.
The width can vary +/- 5mm.
They are unsealed and will need to be fully sealed on both sides.
Normally we require a week to complete the order once payment is received.
We do not recommend our laminated tops in an exterior situation where they're exposed to rain or direct sunlight. Consider our Outdoor Tables instead.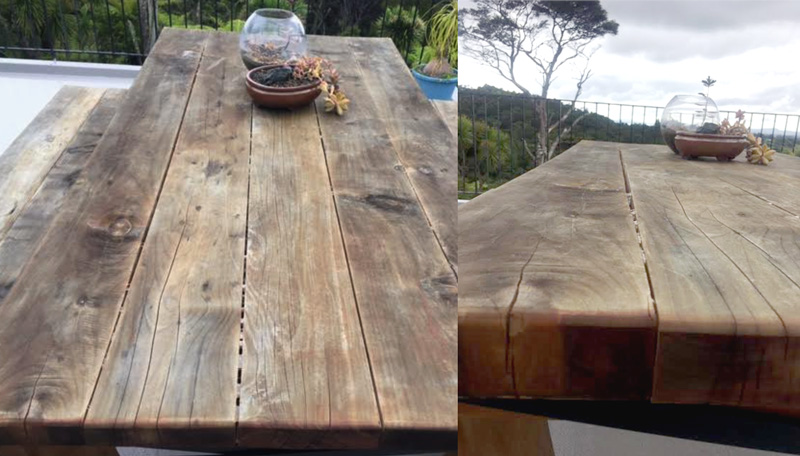 Example of poor weathering, cracking, and warping after another supplier did not warn against placing laminated slabs outdoors.
You are welcome to come in and have a look at our selection here at Cypress Sawmill Ltd where we can discuss your requirements in person, or contact us here.
Macrocarpa slab options
Watch our YouTube clip below for information on the variety of slabs we offer to the public:
How to Apply Moisture Cured Polyurethane
Watch our instructional video on applying polyurethane to one of our laminated macrocarpa slabs:
How To Apply Osmo Oil
Watch our instructional video on applying osmo oil to one of our laminated macrocarpa slabs:
More videos available on our YouTube channel.
Get A Quote
Complete the form below to request a quote for your timber slab, and we will get back to you as soon as possible.
Please note:
Our laminated slabs are supplied as "blanks" meaning final trimming, cutting of sink holes, rounding, joining, and sealing will need to be done by the builder on site
Standard slab lengths are in increments of 100mm and we supply them overlength for final trimming by the installer - consider rounding your length up
The standard slab thicknesses are:

Macrocarpa laminated: 19mm, 30mm, 40mm, 60mm, 85mm, 120mm
Eucalyptus: 40mm

The maximum slab width is 1300mm
The width is within a tolerance of +/- 5mm.
Eucalyptus slabs are only available in Clear grade (no knots on visible side)

* These fields are required.
Photos of our Laminated Timber Slabs
Laminated Dressing Slab

Laminated Clear Timber Slab

Laminated Timber Slab Tabletop

Laminated Timber Slab Tabletop

Laminated Timber Slab Benchtop

Laminated Clear Macrocarpa Slab

Laminated Dressing Grade (tight knot) Macrocarpa Slab

Laminated Dressing Grade (tight knot) Macrocarpa Table

End grain of Laminated Macrocarpa

Laminated Laundry Countertop

Laminated Laundry Countertop

Eucalyptus Laminated Waterfall Kitchen Bench

Macrocarpa Bar Leaner Laminated Table

Macrocarpa Laminated Benchtop

Macrocarpa Laminated Stair Treads

Macrocarpa Laminated Stair Treads

Macrocarpa Laminated Stair Treads

Macrocarpa Laminated Stair Treads

Macrocarpa Laminated Bathroom Counter

Macrocarpa Laminated Bathroom Counter

Macrocarpa Laminated Slab Table

Macrocarpa Laminated Slab Table

Macrocarpa Laminated Countertop

Macrocarpa Laminated Slab Tabletop

Macrocarpa Laminated Slab Tabletop

Macrocarpa Laminated Slab Countertop

Macrocarpa Laminated Slab Countertop

Macrocarpa Laminated Slab Kitchen Island

Macrocarpa Laminated Slab Kitchen Countertop

Macrocarpa Laminated Slab Coffee Table

Macrocarpa Laminated Stair Treads